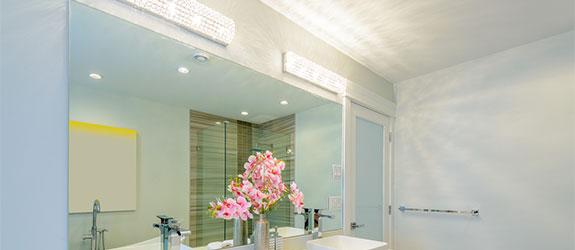 Proper lighting can brighten and warm up any interior environment. Forest Electric knows how significant lighting can be in your home, office space or building and that's why we install the best light fixtures in the Chesapeake, VA area.
Whether you have a specific lighting style in mind or just want a simple light fixture installed we can take care of you. With correct lighting, you can illuminate a room and enhance your inside space. Since 2001, we have provided exceptional work for all your recessed lighting needs. Forest Electric has incredible options when it comes to recessed lighting and you will notice a difference right away.
With recessed lighting, you can alter the atmosphere of any room you're in. One of the perks of having recessed lighting is being able to elevate the brightness or dim down the lights depending on whatever mood you're in. Recessed lighting is the perfect choice for those who love to throw dinner parties, host personal events or showcase projects at work. Forest Electric has a variety of recessed lighting selections for you to choose from.
Along with recessed lighting, Forest Electric offers light fixture installation for all our customers. Our professional staff can take on any light fixture installation project you may have in mind. Whether you need one simple light fixture installed or a lot of light fixtures set up give us a call. We offer the most affordable rates on all our light fixture installation services. You shouldn't have to compromise style for service because of the price. With Forest Electric, you can afford to have quality light fixtures installed without breaking the bank.
We know how light enhances the interior of your room and that's why we offer the best light fixture installation. It's our priority to provide you with state-of-the-art light fixtures that you can't find anywhere else. When you call on us for your light fixture installation services you know you'll get your money's worth.
Bring out the light in your life with Forest Electric and our light fixture services. We always make our customers our number one concern and that's why you can count on us. Don't settle for second best light fixtures — just call on Forest Electric for the best light fixture installation and recessed lighting services. Contact us for more information on our residential and commercial electrical services, which include ceiling fan installation and much more.